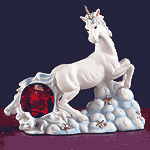 January Birthstone Unicorn
34078 Celebrate someone special on their birthday with this fine unicorn figurine, accompanied by a simulated birthstone! January features a red faux garnet. 6" x 2 3/4" x 5 1/8" high. $9.95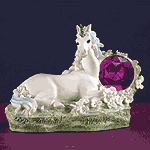 February Birthstone Unicorn
34079 Celebrate someone special on their birthday with this fine unicorn figurine, accompanied by a simulated birthstone! February features a purple faux amethyst. 5 5/8" x 2 3/4" x 4 1/2" high. $9.95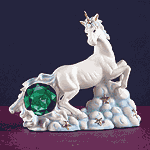 May Birthstone Unicorn
34082 Celebrate someone special on their birthday with this fine unicorn figurine, accompanied by a simulated birthstone! May features a green faux emerald. 6" x 2 3/4" x 5 1/8" high. $9.95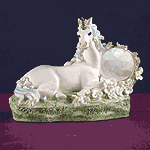 June Birthstone Unicorn
34083 Celebrate someone special on their birthday with this fine unicorn figurine, accompanied by a simulated birthstone! June features a faux pearl. 5 5/8" x 2 3/4" x 4 1/2" high. $9.95





"Well, now that we have seen each other," said the Unicorn, "if you'll believe in me, I'll believe in you. Is that a bargain ?" "Yes, if you like," said Alice. 1. Lewis Carroll, (Through the Looking-Glass)


Unicorn History

No one knows for sure where Unicorns originated, or how long the myth has been around. Written evidence from around 416 B.C. indicates unicorns have been around for thousands of years.

The word "UNICORN" literally means "one-horned". According to legend a unicorn has never been tamed, owned, or bred by humans.

The horn of the Unicorn is said to possess magical powers. Those who drank out of its horn were protected from poisoning, and it is said that drinking from the horn cured many ailments.

The Unicorn, is as a large horse with a single horn on its forehead. It can be found in artwork and in story, of numerous ancient and medieval Asian and European cultures. The unicorn is also mentioned in the writings of Aristotle, Pliny, and Aelian.

In medieval Christendom, and even today, the unicorn represents chastity and purity. Though it would fight savagely when cornered, it could be tamed by a virgin's touch.
It doesn't really matter if Unicorns are real or not. "If you'll believe in me, I'll believe in you. Is that a bargain?"
Own a Unicorn today.






Order Toll Free: 1-866-537-5759
---
| Tableware Cookware | Dolphin Collectibles | Wild Animal Collectibles | Bookends | Musicals and More | Porcelain Birds | Fairies and Unicorns | Collectible Dolls | Dragons and Wizards | Birdhouses | Chess Sets | Native American Traditions | Rooster Collectibles | Gift Ideas | Inspirational Items | Ceramic Windbells |
---
| Return Home | What's New | Our Services | On-line Catalog | Great Links | FAQ Page | Contact Us | Download Page | Christmas Shipping Info. |