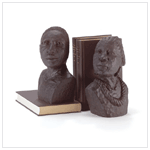 Ebony Style Bookends
33294 With the appearance of carved ebony, these sculpture-quality bookends will make a dramatic statement on a bookshelf. Male and female figures in alabastrite. Largest is 4 1/2" x 3" x 7 3/4" high. $14.95 Pair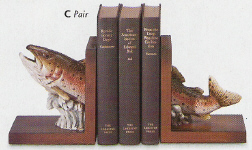 Fisherman's Bookends
35132 NEW! Trout design bookends. Wood and alabastrite. 9 1/2" x 4" x 5 1/4" high. $14.95 Pair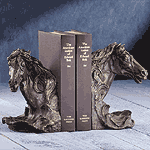 Liberty Bronze Horsehead Bookends
Bookends for the horse lover. Flowing manes blend into waves at the base. These are crafted in alabastrite with a deep bronze finish. Liberty Bronze Collection. 4" x 4 1/2" x 6" high. #27321 $13.95 pair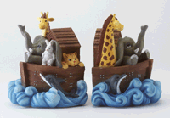 Noah's Ark
Noah's ark is bursting at the seams with animals on this set of bookends. Alabastrite. 4 3/4" x 4 1/4" x 5 3/4" high. #29481 $13.95 pair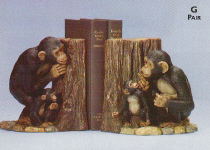 Hide and Seek Monkey Bookends
35190 New! These playful monkeys are playing hide and seek in these whimsical bookends. Alabastrite. 4 3/4" x 5 1/2" x 6" high. $16.95 pair.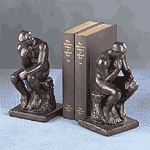 The Thinker Bookends
Rodin's "Thinker" bookends. Alabastrite with antique bronze finish and felt bottom. 3 1/2" x 4 1/4" x 7 1/4" high. #32092 $13.95 pair.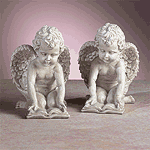 Cherub Bookends
Classic accessories for any bookshelf! Cherubs study the Good Word in these divine bookends. Made of stone finish alabastrite. 4" x 4 1/4" x 5 1/2" high. #33570 $13.95 pair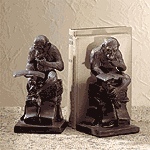 The "other" Thinker Bookends
Contemplating great literature, these monkey bookends are a fun and functional addition to your bookshelf. Alabastrite. 3 3/4" x 4" x 7 1/4' high. #31147 $13.95 pair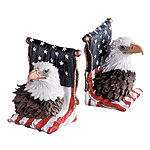 American Pride Bookends
A welcome addition to your Americana Collection. All the mighty symbols of freedom adorn these highly detailed, alabastrite bookends. An Avery Creations exclusive. 4 7/8" x 4 1/8" x 5 7/8" high. #29193 $15.95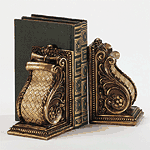 Scroll Bookends
34240 Perfect for a library, office, or study, these bookends offer an elegant design with the look of a fine antique. A wicker pattern is incorporated into a classic scroll and leaf design. Alabastrite with bronze and gold finishes. 8 1/4" x 3 5/8" x 6 3/4" high. $13.95 Pair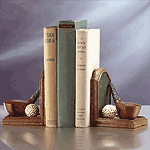 Golf Bookends
31870 The look of wood is captured in these golf-themed, alabastrite bookends. A perfect gift for someone in love with the links. 3 1/8" x 3 3/4" x 4 1/2" high. $13.95 Pair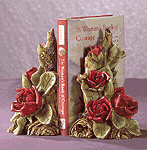 Rose Bookends
31160 Bookends in a red rose design from La Collection Romantique. 3 3/4" x 3 1/2" x 6 1/2" high. $13.95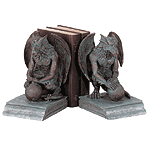 Gargoyle Bookends
34097 Contemplative gargoyles make the perfect guardians for your cherished books. Crafted in alabastrite, with a verdigris finish that lends an antique feel. Each is 5" x 5 1/2" x 7 1/4" high. $16.95 Pair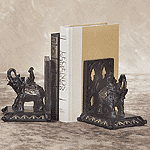 Monkey and Elephant Bookends
34890 Monkey and elephant bookends. Alabastrite with green antique finish. 4 7/8" x 4 1/8" x 6" high. $14.95 Pair Exclusive.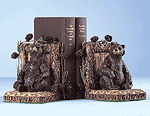 Bear and Pinecone Bookends
34615 Bear and pine cone bookends. Alabastrite. 9" x 5" x 5 3/4" high. Pair. $14.95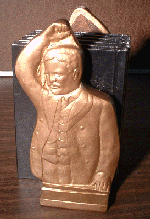 Teddy Roosevelt Bookends
TRB-1 The Theodore "Teddy" Roosevelt bookends are a copy-written reproduction of an original bronze figure produced in 1909 by the artist's grandfather. It is the only one of its kind in
existence, to which the artist holds the manufacturing rights. The image of Roosevelt captures him in a very intense and expressive moment in history. The bookends are cast in
hydrostone and finished in a rustic bronze. Each set is numbered and comes with a Certificate of Authenticity.
Figures stand 8 inches in height. This is a great political collectible. $49.95 Pair.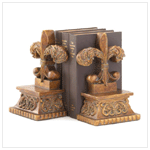 Fleur De Lis Bookends
36011 Bring the centuries-old symbol of perfection, light and life to your bookshelf with this aged fleur-de-lis bookend set. Bronze-colored alabastrite. 4 3/8" x 3 1/8" x 7 1/8" high. $14.95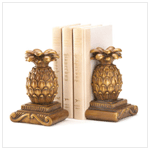 Pineapple Bookends
36012 Polished to a dark amber glow, these pineapple bookends have been given classical appeal with a realistic faux-patina finish. Alabastrite. 3 3/4" x 3 1/2" x 6 5/8" high. Set of 2 $17.95




Order Toll Free: 1-866-537-5759





Bookends History and Use


Bookends have actually only been around, history wise, for a very short period of time. They began to make their appearance only well after the Renaissance, when the number of books being printed increased. Around this time, as a safety matter, books started being stacked vertically.

Bookends are usually placed at the left and right sides of vertically stacked books, usually when those books are not in use. Books should be stacked vertically because book covers deform if placed horizontally. Some people expect bookends to hold books back as a dam does water. Make sure the bookends you select will balance and hold the books where you want them. When arranging your books, make sure you arrange them so they are next to each other just tightly enough to keep them upright, but not so tight as to invite damage when you remove them. Make sure they are not leaning in anyway or eventually the books will become deformed.


Some may view bookends as a luxury. After all, you could use just heavy rocks to hold up your books. But bookends keep shelves looking neat and they serve a decorative purpose. Most people cherish their books not only for what lies between the covers but also for their keepsake value, and nice bookends add to the visual display. Bookends often reflect the style of the times they originated. Some are collectible. Some are pieces of art. In any case, they are a necessary and practical part of any home or office. Choose from our great selection.






---
| Tableware Cookware | Dolphin Collectibles | Wild Animal Collectibles | Bookends | Musicals and More | Porcelain Birds | Fairies and Unicorns | Collectible Dolls | Dragons and Wizards | Birdhouses | Chess Sets | Native American Traditions | Rooster Collectibles | Gift Ideas | Inspirational Items | Ceramic Windbells |
---
| Return Home | What's New | Our Services | On-line Catalog | Great Links | FAQ Page | Contact Us | Download Page | Christmas Shipping Info. |